Clever got me this far
Then tricky got me in
Eye on what I'm after
I don't need another friend
Smile and drop the cliche
'Till you think I'm listening
I take just what I came for
Then I'm out the door again
Lie to get what I came for
Lie to get just what I need
Lie to get what I crave
Lie and smile to get what's mine
Eye on what I'm after
I don't need another friend
Nod and watch your lips move
If you need me to pretend
Because clever got me this far
Then tricky got me in
I'll take just what I came for
Then I'm out the door again
Mine, mine, mine
Take what's mine
Give this to me
A Perfect Circle, "The Package"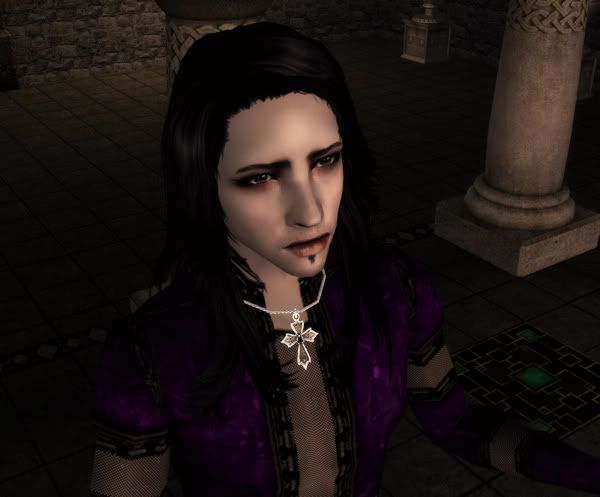 Nicolas listened as the sound of his footsteps echoed off the cavernous walls. He was deep in the underbelly of the cult compound–a place few ever went and returned from alive. Samaria had called him, secretly, giving him directions that led him through a labrynth of confusing corridors and thousands of doors. Finally he reached the end, yet Samaria was nowhere to be found.
He knew he shouldn't have come. He knew he shouldn't have listened when she said she was Onael's daughter, nor should he have taken in what she truly looked like behind the hood. But, as was Nicolas' fate, he did and now he was in trouble. His hasty actions would someday be the death of him, of this he was most certain.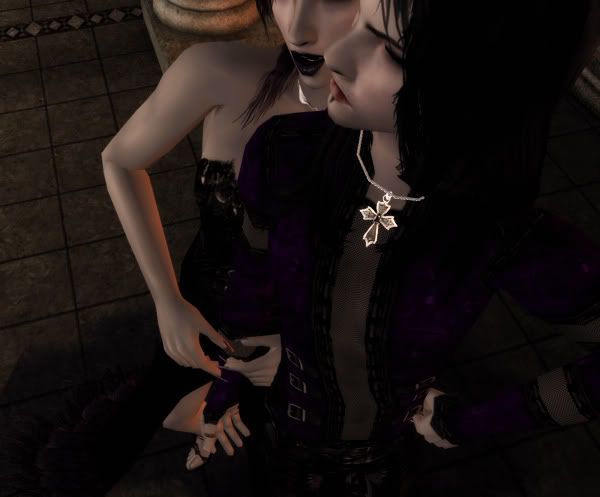 "Looking for me?" Samaria's velvety smooth voice purred into his ear, the feel of her breath on his ear causing him to jump.
"Damn it," he hissed, trying to put some space between them. It was no use, Samaria had hold of his arm and she was stronger. "Are you trying to kill me?"
She laughed, the reverberation causing it to sound like a dull roar, "not yet."
"We have business to attend to," Samaria said, releasing his arm and taking a step back. "It was a shame that Elesuh had to interupt our little talk before."
Nicolas turned to face her, visibly startled. Her appearance had changed tenfold, the robes gone and replaced by a decorated dress, her skin cleaned of any blood, her eyes radiating behind full lashes. She looked everybit Onael's daughter in that moment, her body and face commanding the attention of anyone who might come across her.
"Are you surprised?" She smiled impishly, knowingly. "You see now my true form–my true me. The rags and the hood… how I tire of them. Let us not even go into how much I despise being ordered around like some little vampire toy."